Small Parish - Big Hearts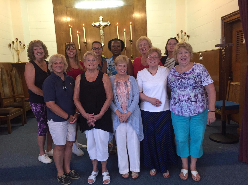 The Church of the Nativity, in Howell Township, New Jersey was founded as a Mission of the Central Diocese almost 35 years ago. It began by renting facilities in Ocean and Monmouth Counties, finally purchasing their own church in Howell Township in 2003. While this is a small parish, its size does not reflect the big hearts of those who love and support it. Although, technically, the church does not have a formal "woman's society"; the women of this parish willingly assume multiple roles and responsiblities to keep things running smoothly. The ladies gladly shoulder the varied tasks that, at most churches, are managed by committees and shared amung many more souls.
The ladies are members of the following ministries:
Proclaiming the Word of God (Lectors): Jenn Clark and Lori Feeney
Music (Coordinate music with the Liturgical Calendar): Marianne DePalma
Social Concerns (remembering the sick and celebrating birthdays etc): Marianne DePalma, Judy Giblin, Joan Patterson and Terri Sommerhalter
Fund Raising and Events Planning Plan events throughout the year to raise funds for the church, foster community spirit, and to just have fun together): Jenn Clark, Marianne DePalma, Lori Feeney, Judy Giblin, Betty Maalik, Joan Patterson, Betty Ann Perhacs, Nancy Perrella, Terri Sommerhalter, Helen Thomas, Teddy Rowohlt, JoAnn durbin and Gayle Quinland, Joann Durbin and Clare Inholf.
Alar (Maintain the sanctuary proper): Nancy Perrella and Helen Thomas
Communications (Maintain websites and parish communicatins / publications): Nancy Perrella and Helen Thomas
Under the guidance and direction of Fr. Edward Czudzak, the women gladly fulfill their roles each week. However, their roles are not static and it is understood that it is not the responsibility of just one or two to make things happen. Our ladies do not wear crowns. When one lady is unable to complete a task, another will step in and take up the role, in true Christian fashion. They work together as one to meet the parish's needs. "Whatever you do, work at it with all your heart, as working for the Lord, not for human masters...." Colossians 3:23
If you are in the area, please join us for Mass and meet our ladies. Mass is celebrated every Saturday at 5:00pm. The church is located at 102 West Second Avenue, Howell, NJ 07731